OLI Systems is deeply committed to the development of innovative, global technology solutions for multiple applications across a variety of industrial markets. OLI is the only company that has first -principles based, highly accurate thermodynamic and kinetic models, with the ability to incorporate the broadest range of phenomena and operating conditions with proven accuracy for over 10,000 industry applications.
OLI delivers process modeling solutions for water chemistry-based industrial applications that enhance engineering productivity, operational efficiency, and sustainability, all while mitigating risk.  As the pioneer in electrolyte/water chemistry science and its applications to industrial processes, OLI systems delivers the most rigorous and accurate process simulation insights and intelligence with its extensive chemistry property database, differentiated thermodynamic and kinetic models, proven software platforms and technology partner ecosystem.
V10 brings the future now
With the new OLI V10 platform, we have augmented OLI's flagship Studio and Flowsheet ESP products to provide our customers with a more comprehensive ability to perform research and manage operations.  From understanding corrosive environments in the refining industry and oil wells at high pressure and temperatures, treatment of produced water and utility water, to accurately modeling the chemistry behind the mining of rare earth metals, we understand the importance of accurate predictions and thermodynamic models to drive business decisions for process operations.  Our V10 platform is customer driven, where we decided to invest and develop areas specially requested by our large customer base. For example, we enhanced our "chemistry in refining overheads" capabilities to model the elimination of toxic contaminants and comply with environmental regulations. Of particular interest to the downstream sector, OLI's simulation of the ammonia desulfurization process has been enhanced through better predictions for aqueous mixtures of ammonia and sulfur dioxide to comply with regulations for low Sulphur marine fuels (IMO 2020).  For the mining industry OLI has been tirelessly working on expanding our modeling capabilities to understand and model electrolyte thermodynamics of the rare earth elements (REEs, i.e. Nd, Eu, Dy, Tb, and Y), a group of elements that accounts for technologies such as smartphones, watches, wind energy and electric vehicles and is necessary to develop and design extraction and recovery processes.
Partnering with KBC to bring Digital Transformation to Industry
As we move towards a future where business decision making is driven by the industrial digital transformation, OLI is working extensively with our partner ecosystem to bring our exhaustive, electrolyte thermodynamic models to multiple platforms across multiple industries. Our partners are able to add OLI's thermodynamic packages and databases as a property method, directly into their flowsheet using our OLI Alliance Engine V10 . This is a powerful tool for our mutual customers as they no longer need to work with separate tools (or even spreadsheets!) to perform accurate electrolyte thermodynamic calculations within a single environment
Today, we are excited to announce the successful integration of the OLI Alliance Engine with KBC Petro-SIM® and the commercial availability of the joint offering from the KBC – OLI Systems partnership.  Petro-SIM® is KBC's leading process simulation software and optimization platform for driving excellence in facility performance and organizational productivity in upstream, midstream, downstream refinery and petrochemical processes.
The OLI Alliance Engine V10, a rigorous electrolyte thermodynamic engine has been added to Petro-SIM's thermodynamic environment, allowing rigorous electrolyte chemistry calculations within Petro-SIM. This enables the end-user to not only perform "molecular management" within the hydrocarbon phase, but within water-rich phases as well. These new capabilities for Petro-SIM will enable the end user to not only correctly calculate contaminant distribution within product streams, but also corrosive environments within the refinery to drive operational excellence and assess asset life and profitability.
Bringing added value to our clients
The ability to follow chlorides in the Atmospheric Tower overhead will allow operators to optimize their chemical corrosion inhibitors program and wash water rates to ensure corrosion prevention at an optimal level (cost vs. benefit). In addition, OLI's ability to predict ammonium chloride and ammonium bisulfide formation will enable the refiners to operate hydroprocessing units within operational envelopes that prevent the formation of these two salts, protecting reactor effluent air coolers from fouling and increasing on-stream time (and prevent costly shutdowns).
Within utilities plant, OLI may work with Petro-SIM's energy modeling tools to add operational insight to steam generation systems. OLI's ability to model the demineralization and reverse osmosis of boiler feed water (removing water hardness in preparation for steam production) will enable operators to have a good grasp on fouling control programs. In addition, prediction of scaling and modeling of boiler operational corrosive environment envelopes enables the utilities engineer to assess the asset's life cycle from both, an operational and chemistry perspectives. Finally, OLI allows the user to model silicate in condensate streams, helping to troubleshoot areas where condensate contamination could be an issue (for example, surface condensers leaking cooling tower water into the condensate and threatening equipment downstream).
A True Digital Twin
However, what is most exciting to me is OLI and KBC's partnership to bring the refinery digital twin to fruition, from both a process and an asset life management level. As we move towards the future, OLI and KBC's partnership will enable the Industrial Digital Transformation and Industry 4.0 with modeling and simulation in both conventional and electrolyte VLLSE (vapor-liquid-liquid-solid equilibria). For example, users will now be able to add to their current refinery digital twins the ability to monitor Ionic and Water Dewpoints in atmospheric tower overheads to have a real-time understanding of the corrosive environment of their asset, and can act accordingly to maintain its operational life. Refiners will, in addition, have the ability to track NH4HS and NH4Cl formation and deposition in the hydroprocessing effluents, and have a better understanding of how to manage these two contaminants to prevent costly shutdowns before turnarounds.
The OLI Engine in Petro-SIM®
OLI and KBC worked closely for the past 18 months to bring this partnership to fruition. The addition of the OLI Alliance Engine V10 in KBC's Petro-SIM® V7.1 is very significant as the engine is embedded within the Petro-SIM simulation Environment, allowing users to seamlessly use OLI's thermodynamic models for their simulations. The user can access the OLI Engine by going to Basis in the Environment section of the ribbon: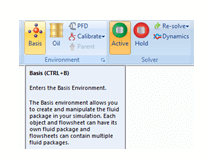 Then, simply search for "OLI Electrolytes" within the Property Package Selection menu and the OLI Systems' Chemistry Wizard® will be accessible through the Basis selection dialog.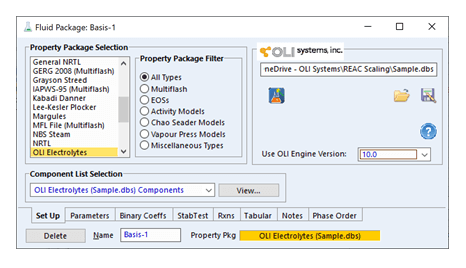 OLI's Electrolyte Digital Twin
In the area of digital twins, OLI is actively developing a Cloud platform that includes Cloud Apps and APIs.  Application developers and end users will be able to APIs from the cloud with the latest RESTful API technologies.  End users will also be able to access Cloud Apps via a web browser, without the need to ever download the software to their computer or server. Our App Builder platform together with the OLI Flowsheet: ESP software will enable users to "publish" Apps within their simulation and network ecosystem to be accessed by any one at the plant and office levels to monitor and run what-if case studies fast and securely. The release of APIs will also unlock the potential of running electrolyte thermodynamic calculations directly from a historian and write the results back into tags to allow for trending and to apply data analytics and machine learning to the simulation results.  These and other planned development activities hold additional promise for the OLI and KBC partnership in the days ahead. 
A fruit partnership with a bright future
I would like to thank the KBC and OLI teams for coming together to deliver on the vision of an electrolyte digital twin. A large part of our digital transformation journey involves our partner ecosystem through the use of the OLI Alliance Engine, empowering process simulation users with the right thermodynamics when it comes to electrolyte systems. Users that already have digital twin models with Petro-SIM will now be able to bring a new level of rigor and accuracy  for electrolyte thermodynamic calculations in addition to the rigorous, first principles thermodynamic and reactor kinetic models already provided by Petro-SIM.
How to learn more about the OLI Engine in Petro-SIM®
Contact OLI or email us at sales@olisystems.com for more information on the OLI Alliance Engine implementation within Petro-SIM® or to schedule a meeting with an OLI expert.