The Oil and Gas (O&G) industry is in the throes of a major digital transformation (DX) to meet today's energy demands efficiently and effectively. Companies are adopting sophisticated technologies to rapidly locate, produce, and deliver consumable energy. Yet as the demand for O&G escalates and natural resources become increasingly scarce, companies face complex challenges that threaten production yields and profitability.
In the Upstream O&G sector, a major dilemma is finding ways to streamline production and increase yield while reducing the operations costs. Exorbitant capital and resources are required to design and build facilities, manage materials and equipment, extract resources, and cost-effectively manage, treat, and dispose water.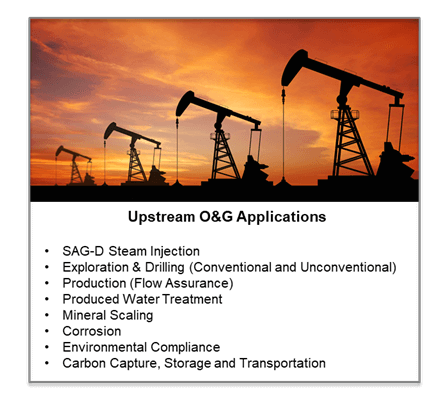 O&G wells bring large amounts of water to the surface. Wells can produce 20X more water than oil or gas, and this water is often saline and unsuitable for surface disposal. Thus, common disposal expenses include permits, separation facilities, pumps, additional pipelines, injection wells, and more. Producing this water can lead to costly and sometimes catastrophic corrosion, solids buildup (fouling/scaling), emulsion, and reservoir souring.
In the Downstream O&G sector, productivity and reliability are foundational to success. More than ever, companies are striving to adopt the latest operating methods and technologies in order to enhance downstream processes, enabling them to sustain production, boost yield, and increase profits while driving down operational expenses. However, companies' industry-wide are facing a significant threat to production—corrosion.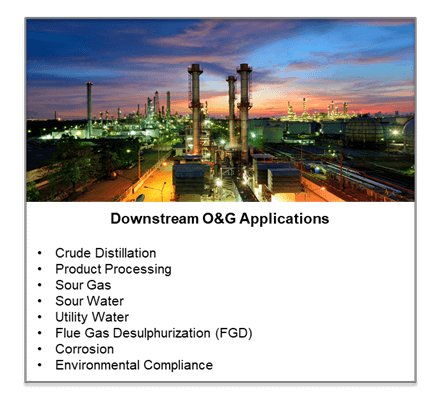 Corrosion is a major issue. Over time, it can lead to lost productivity, increased maintenance costs, unplanned shutdowns, and even catastrophic failure. Corrosion is especially rampant in crude tower overheads due to hydrochloric acid. Once crude oil is transported downstream, it is run through a desalter to remove salts, solids, and other impurities; however, it is difficult to remove all contaminants, which then flow into the tower. Although hydrochloric acid and other corrosive liquids are common in refining processes, many companies lack the water chemistry analysis capabilities to identify the type, cause and precise location of corrosion and treatment options.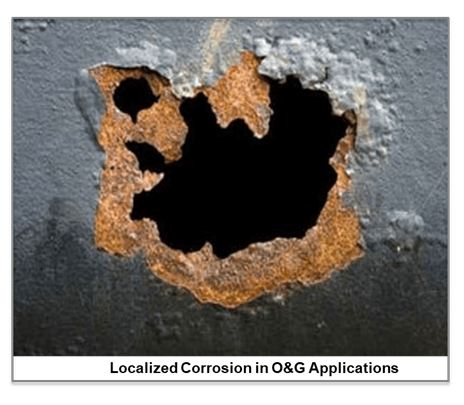 OLI Systems, Inc. is leading the industry with water chemistry process modeling tools. These tools help companies design water handling and disposal facilities, simulate production and processing, calculate the likelihood of corrosion or scaling, and other relevant phenomena. OLI has developed software tools that will enable O&G companies to operationalize water chemistry insights through digital transformation and electrolyte digital twins. Through OLI's web apps, APIs, and services, clients can take the wealth of data generated daily and give real-time meaning to it. Companies can now monitor scaling and corrosion as it is happening in their systems, with prescriptive insights to solve these issues.
When hydrocarbons are produced, salt-rich water in the same process can cause several issues. One of the most common issues is fouling where, over time, mineral scale buildup chokes off tubing. As water clogs or corrodes pipelines—which can be over a mile long—companies are forced to pause operations, pull up pipeline, install new pipes, and then resume operations. This cuts off all revenue for an expensive and time-consuming fix with costly materials that increases operational costs and reduces profitability, costing E&P companies millions of USD in unrealized profits.
The prescriptive approach is to utilize scaling and corrosion modeling to avoid this situation altogether. OLI Systems' tools allow companies to predict corrosive environments and to create a personalized treatment option to help companies prevent issues and achieve optimal production. Leveraging cutting-edge software tools, OLI Systems provides state-of-the-science process simulation, enabling key capabilities like mineral scale and corrosion prediction, prevention, and control.
Hydrocarbons are transported to refineries to be converted into fuels and petrochemical feedstocks. Refineries take in crude oil from reserves around the globe, with several unique contaminants. Without the technology or extensive water chemistry expertise to gain insight into their operating environments, understanding how to treat corrosion and even find the causes is nearly impossible. The ability to model corrosive liquids is essential to diagnosing corrosion issues—from predicting the type and behavior of contaminants to analyzing physical conditions to determine ideal operating ranges.
OLI Systems developed ionic modeling technology to identify the causes of corrosion due to these contaminants, and test methods to quickly minimize the formation of corrosive chemicals. Using this state-of-the-science technology, companies can determine whether a corrosive solid, liquid or ionic slurry forms. The ionic slurry (molt) was previously impossible to predict, and it is not easily removed by standard treatment methods. Now, ionic modeling is becoming increasingly widespread and critical to maintaining and enhancing production. This water chemistry application has sparked a major shift in the Downstream sector, leading companies to adopt state-of-the-science tools to treat and prevent this corrosive material, resulting in significant savings, greater reliability, and extended asset life. These tools can help refineries protect up to 14 MMUSD* a year of profits by preventing unexpected shutdowns caused by leaks or fouling.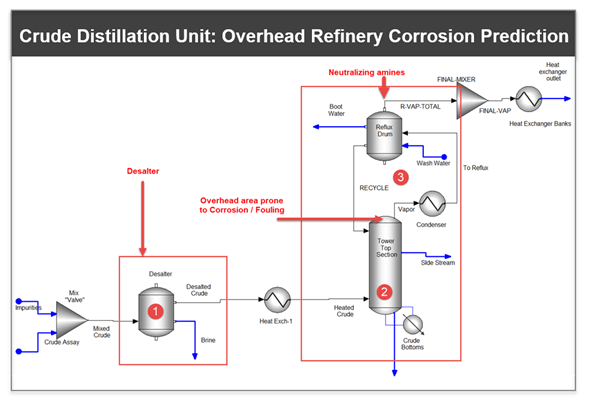 OLI Systems has worked extensively with global O&G companies to improve safety, productivity, reliability, and performance at every stage of production. OLI Systems is the market leader in water chemistry and thermodynamic simulation software and services with the most comprehensive electrolyte chemistry system databases and extensive data validation for thousands of industrial applications. By mimicking field conditions, OLI Systems' models can determine exact behaviors and change before they occur or are implemented in the field. With the OLI Studio software toolset, customers can predict the fastest and most economic response to multiple corrosive materials and take prescriptive measures to mitigate scaling and corrosion risks using precision insights or multi-component/multi-phase chemical systems.
Contact sales@olisystems.com to learn more about how the OLI team can help you to address scaling, corrosion and ionic modeling challenges  to enhance the reliability, efficiency and performance of your O&G operations.
*For a 150 kbpd refinery, a 2-week shutdown at 10 USD/bbl. crack-spread